Floral Viagra – Flowers Standing To Attention!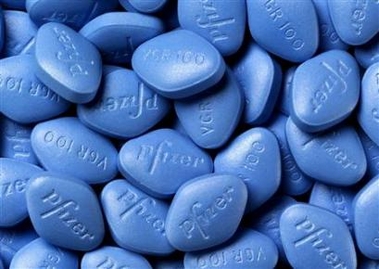 We care for our flowers and we want our customers to enjoy them in full bloom for a while. That's why with all the flowers that we send out, we include a sachet of specially formulated food and preservatives to extend longevity (free of charge, of course!). It helps the flowers in providing nourishment, preventing the growth of bacteria and fungi, and in also lowering the ph value of the water. In addition, there are several home grown remedies such as copper pennies in water, vodka, soda, aspirin, lemon juice, citric acid etc., which seem to do a competent job in keeping the flowers in bloom. But, there seems to be another addition to the growing list of flower care remedies…
Viagra!!!
Yes, the little blue miracle pill long known to rejuvenate male impotence, can also double the life span of fresh flowers. A recent article in Financial Times indicates that a small amount of Viagra dissolved in water acts as an excellent preservative for cut flowers. It is found to keep the flowers fresh and erect and prolong shelf life for much longer than normally anticipated. It must be true! It's in the media!! Would you put Viagra for a more unconventional use such as using it as a preservative to extend shelf life for fresh flowers?
We even looked up the Internet and voila! We found a nice little article from British Medical Journal where these claims are substantiated academically. Professors Yaacov Leshem from Bar-Illan University in Ramat Gan, Israel and Ron Willsfrom University of Newcastle, Australia, have patented this discovery as safe and cheap way of increasing the vase life of fresh cut flowers.
Through its effects on Nitric Oxide, Viagra seems to stem flowers from wilting. Even before the industry develops a method for pre-treating fresh cut flowers to increase their shelf life, or until we start including additional Viagra based flower food, we suggest saving a few pills to prevent flowers from wilting.
In case you fail to convince your GP for an extra prescription of pills to perk up your flowers, don't worry. We have put together a smart guide to help you care for your flowers.