How to Make a Pot et Fleur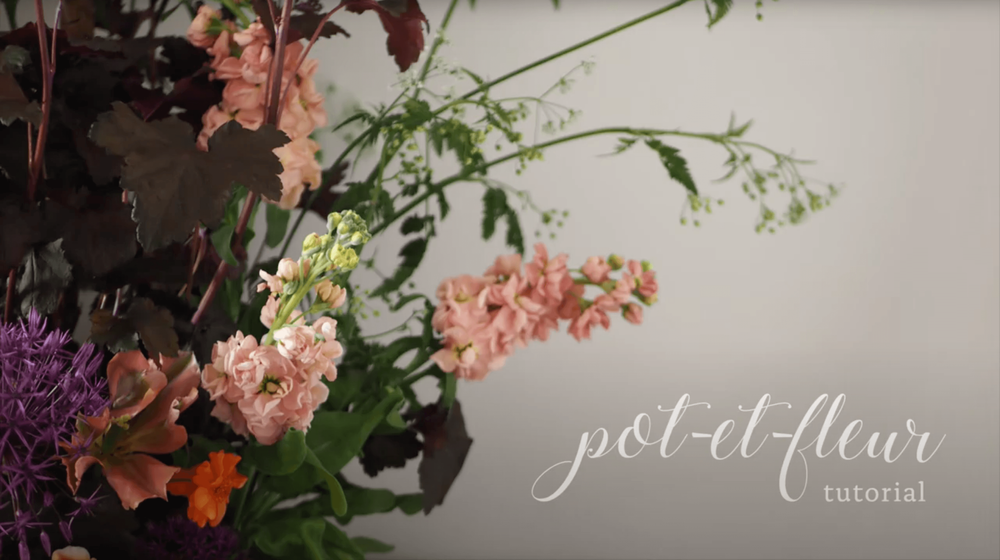 In this flower craft video, Camilla shows you how to make a beautiful Pot et Fleur, using real flowers from Arena Flowers, various foliage, and a potted plant. In just a few simple steps you'll have made a beautiful centrepiece for your home, making the most of seasonal flowers and items already in your home. 
What you will need:
Heuchera (or any dark-leaved pot plant)
Cut flowers & tall wildflower stems
Sharp scissors or secateurs
Vintage copper pan
Egg cups or jars
Floral tape
Feathers
Wire
How to make a Pot et Fleur step by step:
Step 1: Positioning the pots
Once you've positioned your pots, make a grid across the top using floral tape. If the tape isn't holding, scrunch up floral wire and add instead. 
Step 2: Add water 
Pour in enough water to fill your small pots.
Step 3: Begin adding blooms 
Decide where you want your wildflower stems and cut to the right height. Once you're happy with the structure, cut and place your feature flowers. Guide the stems through the wire or floral tape for support. Make sure the ends of all your cut flower stems are in the water.
Step 4: Position the feathers
Position your feathers, pressing them down into the pot plant soil.
Step 5: Fill the gaps
Add a few trailing blooms to the front and fill any gaps.
Step 6: Admire!
Make any final tweaks... Stand back and admire!
Follow us on Instagram for more ideas & beautiful photos of our flowers, or head over to our flower collections to place an order.